Heavenly Classics Archive
HCA is a growing archive of inspired films that fulfill the Bible admonition to "communicate the Gospel to the world." Many were crafted by Hollywood's most prestigious producers, directors, writers, actors & technicians. Here is a sampling of film titles currently being remastered that reflect the wide range of spiritual content and values to be found in these films.
Here are the nine films excerpted in the above video.
Man in the 5th Dimension
(1964) 33m, color. This historic masterpiece was originally shown at the Billy Graham Pavilion of the 1964 New York World's Fair on a huge screen in Todd-AO 70MM. Magnificently produced with a brilliant Bible story narrative delivered with conviction and passion by the Reverend Billy Graham.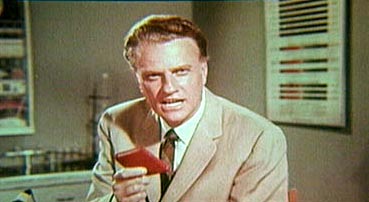 This My Son
(1954) Family Films Former child star Dickie Jones has a grown-up role in this modern day interpretation of the parable of the Prodigal Son from Luke 15. Fine acting and production values enhance this film made for the Southern Baptist Convention in 1954.
Fire on the Heather
(1956) 30m, color. Recently rediscovered rare docudrama narrated by Donald Crisp about three historical figures that influenced the introduction of Christianity in Scotland: Saint Columba, Scottish martyr John Brown and John Knox, leader of the 17th century Scottish Reformation. Produced by Billy Graham's World Wide Pictures during young Graham's 1955 Scotland Crusade.
I Don't Want to Get Involved
(1964) Family Films The mission of the Church in the 20th century is questioned by newsman Clete Roberts in this compelling documentary that exams the vicious murder in Queens of Kitty Genovese in 1964 in front of 38 bystanders who later claimed they simply "Didn't want to get involved."
All That I Have
(1951) 55m. Family Films. All-star cast includes Houseley Stevenson, Donald Woods and Tom Neal in film about the relevance of thoughtful Christian stewardship. Heirs-to-be of a wealthy surgeon challenge his competency in court over recent gifts of large amounts of cash to the church.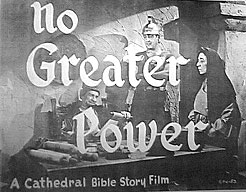 No Greater Power
(1942) 28m. Powerful historical dramatization of Jesus' Jericho encounters with Zaccheus the tax collector. The production was filmed by veteran cinematographer John Alton (Elmer Gantry) and notable for its effective use of light and shadow.
Almost Neighbors
(1965) 33m The National Council of Churches of Christ produced this look at racial tensions between social classes in America and poses the provocative question "As Christ died for all mankind, what are we living for." Former child star Margaret O'brien co-stars.
Where There's Life
(circa 1950) Color, 24m. Olympus Productions. Film documents the benevolent works of the Community Chest in a typical 1950s American city. The CC was the forerunner to what in 1963 evolved into today's United Way.
A Link in the Chain
(1958) 28m Christopher Films James Cagney (who rarely did TV) is awesome here as a retiring professor learning (in flashbacks) just how relevant he was to his students. A Capra- esque tear-jerker with Cagney playing three ages includes a poignant death scene in the finale.
---
A sampling of other rare religious films in Heavenly Classics Archive.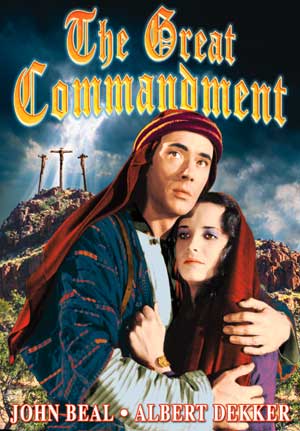 The Great Commandment
(1939) 78m This first major Cathedral Films production and theatrical release was shot on the old Selznick-International studio lot in Culver City, CA in 1939 at the very same time as Gone with the Wind. It's about the conversion to Christianity of a young Zealot, Joel, and the Roman soldier Longinus by the teachings of Jesus in his Parable of the Good Samaritan. In 1941 the film received a national theatrical release from 20th Century Fox.
I Beheld His Glory
(1953) 59m Color This 1953 Cathedral Films production was filmed in color specifically for television broadcast and first shown during Easter week on the TV anthology series Family Theater. Directed by John T. Coyle, most of I Beheld His Glory is told in flashback by Cornelius, a Roman Centurion played by veteran actor George Macready. Cornelius, who is open-minded about the teachings of Christ, becomes concerned for His safety after hearing about the plot to have Him killed. He is finally converted to Christianity after hearing the story of Christ's Resurrection from the apostle Thomas. The film shows the Last Supper, the trial of Christ, the Crucifixion, the Resurrection, and the appearance of Christ to Doubting Thomas and the other Apostles.
Reaching From Heaven
(1948) 80m From Roland Reed Productions, this compelling dramatic feature film is greatly enhanced by an all-star Hollywood cast including Hugh Beaumont (dad on Leave it to Beaver), Regis Toomey, Margaret Hamilton (wicked witch of Wizard of Oz), Mae Clark, John Qualen and Ann Doran. Just as church services are letting out a stranger is run over by a car in front of the church. The stranger is helped mentally and physically by the minister and congregation whose members embark on a spiritual journey to help the stranger regain his self-confidence while also accepting the death of his wife who was traveling from Europe to join him in America.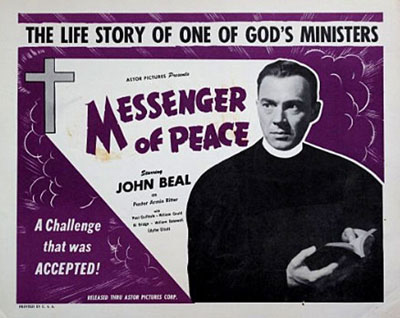 Messenger of Peace
(1947) 81m This is the inspirational story of Pastor Armin Ritter (John Beal) whose faith remains unshakable despite the most extreme forms of personal tragedy. Peggy Stewart co-stars as Ritter's ever-supportive wife, and Paul Guilfoyle has a plum role as an alcoholic who "sees the light." The film was originally made for church showings, but Messenger of Peace was superbly crafted in spite of the modest budget and was subsequently reformatted from 16mm film to 35mm and given a brief theatrical distribution by Astor Pictures in the early 1950s.
Christmas is Magic
(1953) 24m This was the Christmas episode of an anthology TV series called Your Jeweler's Showcase. A WW-2 war vet (Robert Hutton) with amnesia gets off a train in an unfamiliar town on Christmas Eve. In the village square he meets a widow (Frances Rafferty) and her 8-year-old son. The son and man, who calls himself John Doe for lack of his real name, quickly bond and he joins them at home to wait for Santa to arrive. Mother and son pray together in a moving scene not often found on television. Later John Doe helps trim the tree while the widow helps him remember his past. Miracles happen!
The Pilgrims
(1954) 22m EB Films – richly dramatized and well acted telling of the Pilgrims separation from the Church of England by means of a patent deal with a group of London merchants that financed their trip to the New World. Depicted are the hardships of surviving the voyage, overcoming illnesses and Integration with the indigenous population.
The Man Who Asked No Favors
1957 episode of DuPont Theater. 28 min. True story of a preacher (Lew Ayres) who visits a farming community under a severe drought. When they demand that he ask the Lord to send them rain, he refuses, saying it does not work that way.
The Jumping Parson
(1957) TV episode of Telephone Time. 26 min. Billy Halop plays Chaplin Lt. Ray Hall in this true story. He battles his fear and a fellow soldiers of jumping out of an airplane. They both jump and conquer their fear and Chaplin Hall survives the war and becomes a doctor. The real Chaplin Hall is introduced at the conclusion.
The Christmas Spirit
(1956)  30 min.  Story about two boys who want ponies for Christmas but their family can only afford one. The horse owner who is bitter about the loss of his son in the war is softened by the boys' sacrifice for each other.  Produced by Family Films Inc.
The Greatest Gift
(1954) 30 min. Lutheran Television presents the Fisher Family with Onslow Stevens and Forest Tucker in a family Christmas story. Rare episode of "This Is the Life" series.
The Gift
(1953) 26 min. Episode of Four Star Playhouse with Charles Boyer and Ann Doran. A businessman becomes moody and antagonistic each year at Christmas because it reminds him of his estranged son, who chose to become a geologist instead of following in his father's footsteps.
Abe Lincoln of Ninth Avenue
(1939) 68 min. Jimmy (Jackie Cooper) is an idealistic young man who studies law while struggling to survive with a newsstand in lower New York. Beset by local thugs and his gangster brother, he tries to instill in a poor crippled boy and old man the spirit of Christmas they had never known. A kindly judge takes an interest when he learns Jimmy is guided at every turn by the words and deeds of Abraham Lincoln.
And many more to come!
---
The Christopher Films
These powerful half-hour mini-movies are vastly worthy of rediscovery and appreciation by contemporary audiences. Here are clips and film descriptions for six of our favorites:
You Can Change the World
(1951) 32m This premiere production from The Christophers was based on Father Keller's first book and features an all-star cast of Hollywood stars like Bing Crosby, Bob Hope, Irene Dunne, Loretta Young and William Holden who gather at Jack Benny's house to hear Father Keller explain how anyone with a good idea truly "can change the world." This notion was the idea behind the Christophers' movement and this first film was followed by a weekly TV series of inspirational half-hour films that emphasized positive action to create a better world by fostering political honesty, compassion, caring for the sick and poor, and dealing with substance abuse. This highly unusual first short experienced a limited theatrical release as an "Extra Added Featurette."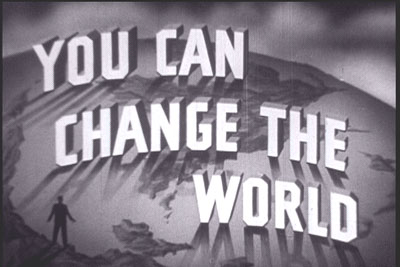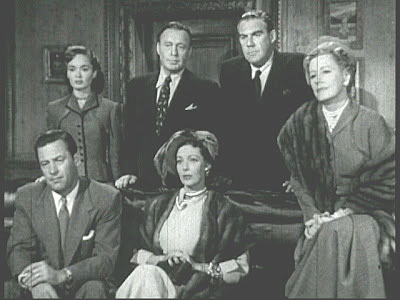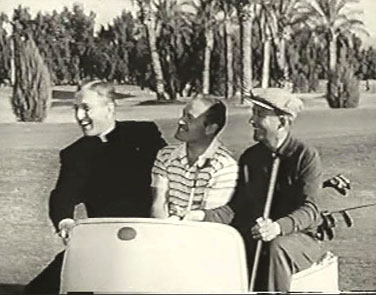 Government is Your Business
(1952) 28m This is the film version of Father Keller's best-selling follow-up book and demonstrates how an average man with good intentions can manage to overcome political influence and corruption in a small town.
A Link in the Chain
(1957) 28m Upon retirement Professor Graham (James Cagney) reflects on his life and career and in particular about three students he taught. One was a handicapped artist, the second was a debutante and the third was a college hero. The three students learned kindness, dignity and purpose from the wise professor. Cagney's work in television was rare, and his performance here is a powerful and touching portrayal
Let George Do it
(1952) 28m Danny Thomas plays against type in an over the top impression of a political fixer with ties to the mob, while Robert Young and Dennis Day use humor and imagination to help Father Keller make the point that personal participation in civics and government affairs is essential for keeping corruption out of our government and our democracy.
All God's Children
(1954) 28m A young Korean War vet who was a prisoner of war, played by Mike Connors (TV's Mannix) returns home concerned about the state of the world and questioning which profession he should choose that would provide the opportunity for him to "change the world."
Faith, Hope and Hogan
(1952) 28m Bob Hope and Bing Crosby clown around on the golf course before introducing Father Keller to legendary golfer Ben Hogan who talks candidly about his faith and what he learned from his near death experience from a tragic auto accident. Phil Harris and baseball great Ralph Kiner join - in and Bing manages to wrap up the show with a song.
---
Thine is the Kingdom
(1935) 52m This newly discovered film we understand to be the first motion picture to present both Old and New Testament Bible stories -- from the Garden of Eden to Noah to the birth of Christ and the Resurrection. However, during our preliminary stages of research we have yet to uncover any information or learn anything whatsoever about this rare and unusual film. Who financed and produced it? Where was it filmed and shown? We continue to seek the answers. Meanwhile, here are opening titles and some early scenes from this previously lost Bible film.
---